Updates, insights, and how-tos to help you get the most out of the Green Check platform.
What's new
Summer is here and so are a TON of new features. Take a peek at what's new:
ICYMI: Marijuana Business License Verification is now available 🎉

P.S. we've added a Marijuana Licenses report to round out this feature. Check out the Reports tab!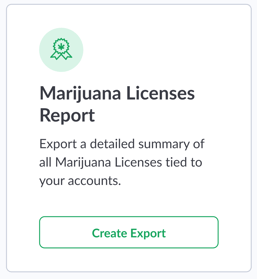 We've made some awesome improvements to Indirect since its release:
See which form fields are "required" at-a-glance when building questionnaires or custom fields within due diligence templates
Save time by rapidly adding fields without leaving the modal!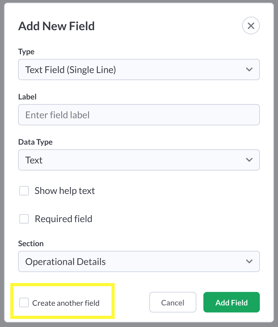 We've added a notification to alert you when a questionnaire has been completed (it's on for everyone by default, but easily turn it off in your user notification settings).

Tag due diligence templates to be used for "licensed marijuana-touching" businesses. Using this tag tells Green Check that you want to include the Marijuana License requirement in the due diligence template, and it ensures that only CRBs that are licensed and marijuana-touching are instructed to connect their POS or upload sales manually.
Want to help us shape version 2 of Indirect even further? Scroll down for your chance to win a $25 Amazon gift card by taking a brief survey (must take by 7/8/2022)!

There's more! Want to turn on multi-factor authentication (MFA) support for your organization? Read more below
---
How to:💡 Inherit (and approve) requirements when inviting new child accounts
Since we are now able to support different types of CRB accounts, such as licensed marijuana-touching, indirect businesses, and hemp/CBD, a parent account might use a different due diligence template than its related children accounts.
Because of this, we've updated the Add New Location flow to include a way to select documents that were part of the parent's due diligence template and easily migrate them to the new child account you are inviting.
To invite accounts and inherit the parent account's documents, follow these steps:
Go to Accounts and click on a parent account.
Click on the Locations tab.
Open the Add New Location modal and fill out the fields.
Check the "Inherit documents" checkbox and then the Next Step button.
A modal will pop-up which will guide you through "matching" documents from the parent requirement to the child requirement. If requirements have the same names, we will automatically match the requirements and you'll see a green check mark appear.
For non-matched requirements, simply choose the child location's due diligence requirement from the dropdown menu to match it.
Use the "Mark as approved" checkbox to automatically mark the requirement and documents as approved so you don't have to review them again as part of the account approval process.
That's it! The CRB will receive an invite to Green Check and go through onboarding; however, they will NOT have to upload documents to fulfill requirements for those that have been matched.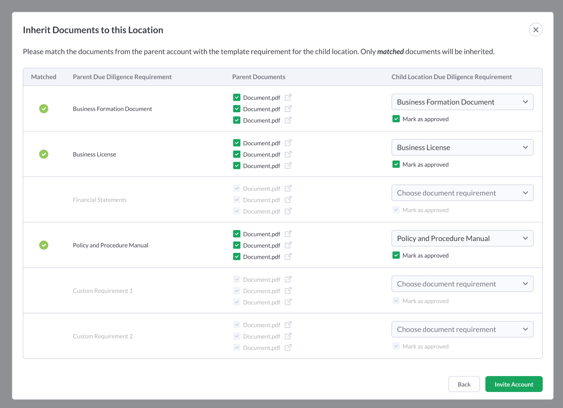 ---
More buzz 🐝 from Green Check
Security on the brain? Enable Multi-Factor Authentication (MFA)
MFA is an optional login requirement which may be configured on an organization-wide basis. This means if you choose to turn it on, it will be enforced for all fellow employees. MFA requires employees to enter a unique time-sensitive code (sent through either SMS or an authentication app of their choice) in addition to their email and password when logging into Green Check.
To enable MFA for your organization, please reach out to your relationship manager or email us at support@greencheckverified.com.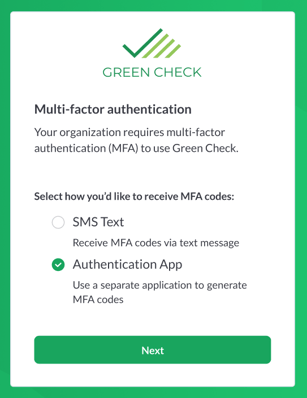 Take a questionnaire about...Questionnaires!
As we continue to improve your questionnaire creation and reviewing experience, we need your help! Please take this three minute survey to help us decide what happens AFTER a questionnaire has been submitted by your CRB accounts. Two lucky survey submitters who respond by 7/8/2022 will receive $25 Amazon gift cards for answering some questions, like:
Do you need to review the results from each completed questionnaire?
Do you ever have the need to send a questionnaire back for adjustment?
What if you receive an unexpected result that requires internal investigation - what is your workflow for that?
Click below to take the survey! Even if you haven't used this feature yet, your feedback is very valuable to us.