Updates, insights, and how-tos to help you get the most out of the Green Check platform. This month, you'll learn all about Indirect!
What's new
Take a peek at what the product team has been working on:
Yay, it's in beta! Create, customize, and manage multiple due diligence templates in Green Check to truly customize your cannabis program. This means full customization of the documents and information you collect during onboarding (due diligence templates) and on a recurring or ad-hoc basis (questionnaires). Learn more about this exciting release in this blog post!
License verification is currently in development and is set to release in the upcoming weeks. Soon, you'll be able to automate the marijuana license verification process, leaving your manual collection steps in the dust.
---
How to:💡 Manage your existing due diligence template using the new user experience (once Indirect is live)
Green Check's Indirect product allows you to create initial (due diligence templates) and ongoing (questionnaires) for your CRB accounts.

With this new product comes a new experience for managing your existing due diligence template that you've been using to invite accounts. These are the steps you will follow to manage your template once this product goes live:
Go to Settings and click on the Due Diligence tab.
You will see a new table view with an item called 'Default Template'. This is the template you have been using to invite new accounts. Simply click the row to access your default template.
This new area contains everything related to this specific due diligence template, starting with its settings. The Settings tab shows the template's name and description, when it was created, and more. Click "edit" to make changes.
The Document Requirements tab should look familiar to you. This tab contains all of the document requirements (both custom and Green Check recommended) that you'll request as part of the initial onboarding process. The main difference is that you can archive Green Check requirements (except for business licenses) if you do not require them. Add new requirements here, too.
The Custom Fields tab gives you an intuitive form builder to create new form fields to be asked during the initial due diligence process. These can be specific questions relating to your cannabis banking program. The CRB will answer them during their application process. The addition of custom fields allows you to truly customize the initial due diligence experience!
In the Accounts tab, you'll see links to the CRB accounts that have been invited to Green Check using this template. You'll see their status with a link to view their full information.
Important: The 'Default Template' is already published and active; however, if you want to make changes to it (like adding or removing document requirements or creating new custom fields), you will have to re-publish your changes before the newest version of the template becomes live for inviting new accounts moving forward. Once you make changes, a banner will appear which will prompt you to publish any new changes to this template.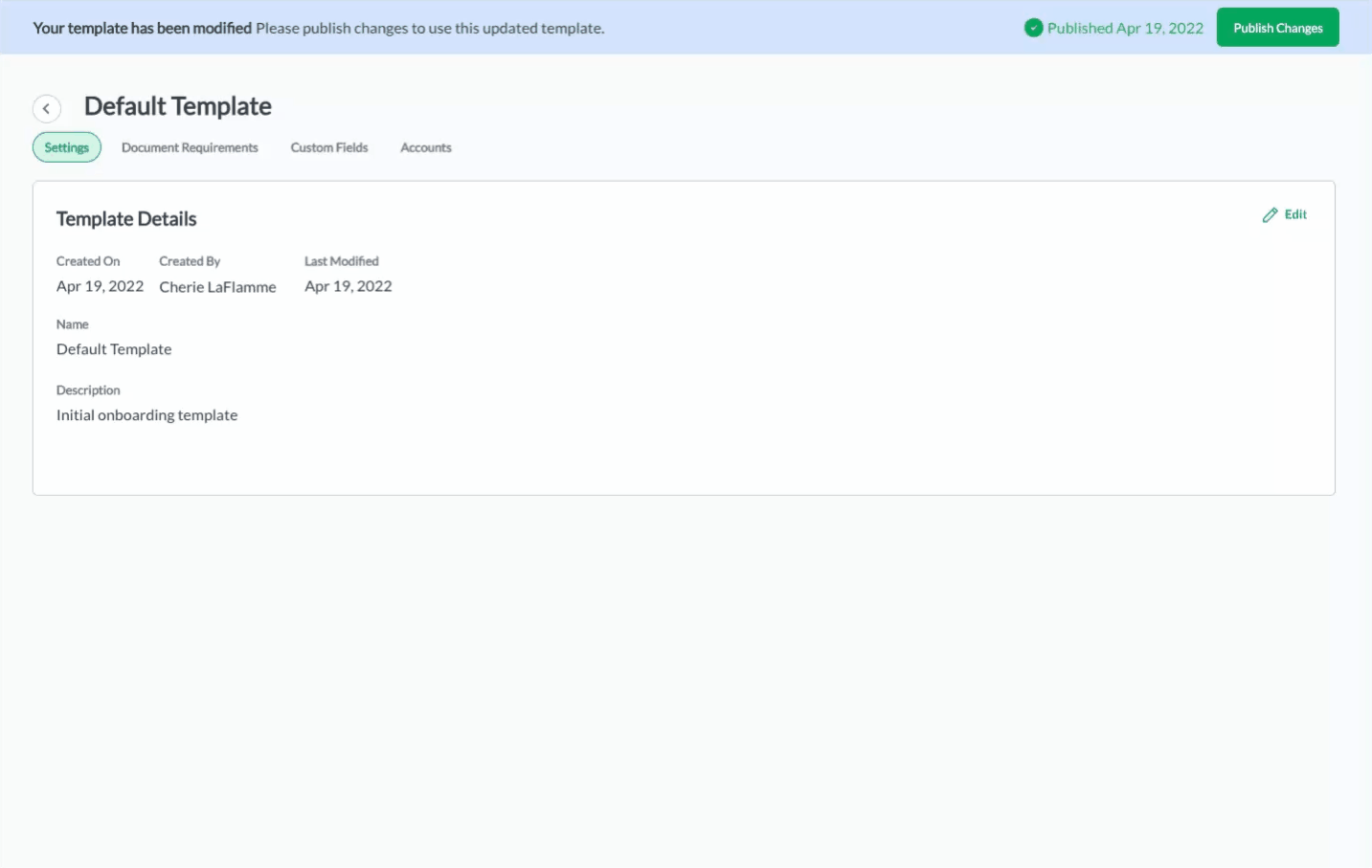 ---
More buzz 🐝 from Green Check
Steps for Success
Check out these Indirect Support Center articles
You didn't think we'd leave you in the dark, right? Here are some articles to help guide you through the full Indirect product, including due diligence templates (initial due diligence) and questionnaires (ongoing due diligence):