Use this article to learn how to distribute recurring questionnaires and manage distribution lists.
After you've published a questionnaire, you'll be able to turn it on for distribution and choose the accounts that should complete it on a regular (recurring) basis.
Toggle the distribution to ON, which allows you to choose its schedule.

This will open the distribution modal, where you can choose the first date on which you want it to distribute. This is also where you will choose the initial distribution list, which are the accounts that will receive it.
The Frequency and Time to Respond fields were chosen during template creation. These fields demonstrate the frequency at which this recurring questionnaire will be sent out, as well as how long the CRB(s) have to complete and submit it back to you. For example, if a questionnaire is set to Weekly (frequency) with 5 days to respond, that means that this questionnaire will be sent on a weekly basis to select accounts and they will have 5 days to complete it before it is late. You have the ability to edit the frequency and time to respond fields in future distributions by going to the Settings tab for the specific questionnaire and editing the page.
Start Date: This is the first day on which you want this questionnaire to distribute. All future distributions will use this date as its starting point.
Distribution List: Select the accounts that should complete this questionnaire. You can use the search field to select multiple accounts. Also use the "show selected only" checkbox to narrow down your view of only selected accounts. This comes in handy for long lists!
Click Distribute Questionnaire to save this information and start distribution on the start date you chose!
Edit the distribution list for a questionnaire
To edit a distribution list for an existing questionnaire, go to Settings and choose the questionnaire you would like to edit. Click on Distribution List and then Edit Distribution List to begin.
Simply choose the accounts you want to remove or add to the distribution list. Remember to use the "show selected only" to see all of the selected accounts at once!
Click Save and future distributions of this questionnaire will use this distribution list moving forward!
Use the Distribution List tab in the future to see all accounts that will receive this questionnaire in the future.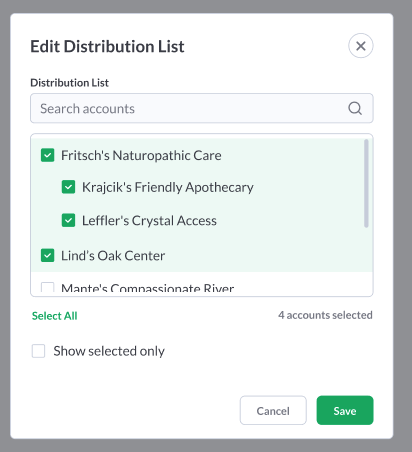 Edit an individual account's questionnaire assignments
To change the ongoing questionnaires that a CRB account receives on a recurring basis, go to Accounts. Click on an individual account you would like to edit and then select Questionnaires.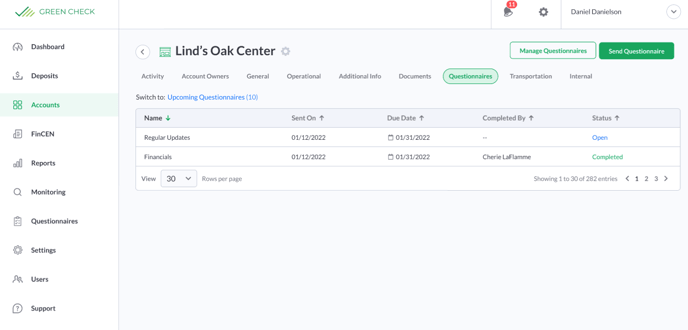 Choose the Manage Questionnaires button, which will open a modal containing all of the published questionnaires available. Any item that is "checked" means that this account is currently on the selected questionnaire's distribution list already.
Select the questionnaires that this account should receive. The frequencies are listed here so you can see how often they will be scheduled to recur.
Use the "show selected only" checkbox to only see the questionnaires that are checked for this account.
Use the "show only those with their distribution turned on" checkbox to filter down the list of questionnaires and show those that are currently turned on for distribution. Only questionnaires that are published and turned on for distribution will be selectable in this list. If you would like to manage questionnaires that have their distribution turned off, you must turn them on first in Settings > Questionnaires.
Click Save when you're done to save changes