Announcing Green Check's newest feature: Marijuana Business License Verification
We are happy to announce that License Verification is now available! We all know that the process of manually checking the validity and status of a given marijuana business license can be tedious and error prone, but not anymore. With Green Check's Marijuana License Verification feature, you will no longer need to take time out of your day to verify your CRBs' operating status against state governing authorities. Save the heavy lifting for us! 💪
Green Check's Marijuana License Verification integration, powered by CRB Monitor, automatically checks on the status of each marijuana business license in your system. As a result, your organization will be kept up-to-date on any status changes to marijuana licenses, allowing you to get back to the things that matter most to you and your financial institution.
---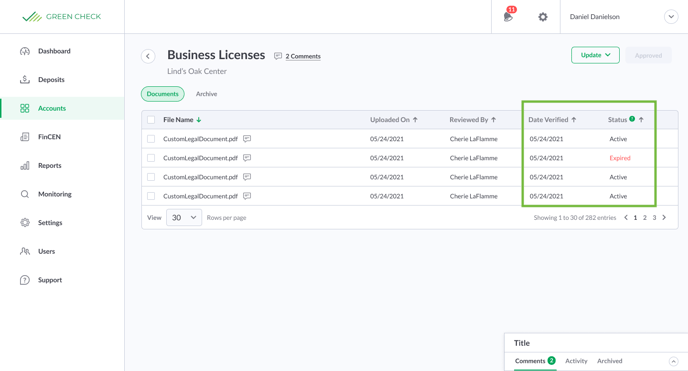 Gain valuable information about expired licenses in real-time!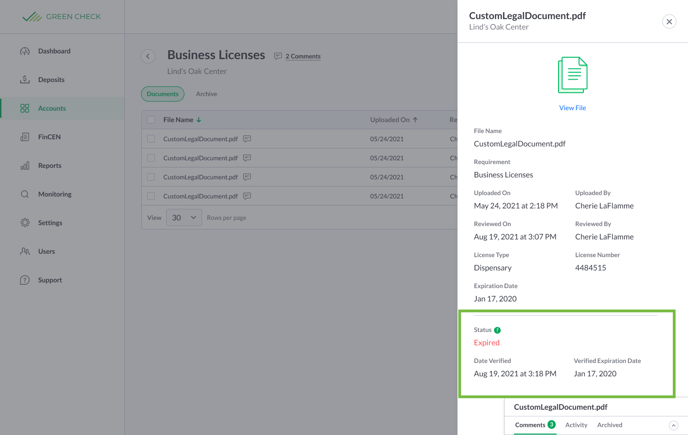 View the statuses of the business licenses for a CRB at-a-glance
---
Business License Verification FAQs
How does it work? When a marijuana license is uploaded into Green Check, we run checks against the license number and business name in order to find a proper match for the license. Once it's matched, you will no longer need to manually verify its status—the software will run checks against it automatically and alert you if its status changes.
What's the benefit? This means less time and energy spent sifting through state governing authority websites. This feature will automate the process so it's no longer a manual task you have to perform.
How will I know it's working? The best part about license verification is that it's meant to be a "set it and forget it" feature. This means that you will only get alerted if a status changes.
Can I easily report on licenses for peace-of-mind? Yes! We've added a report (go to Reports > License Verification) that allows you to check on statuses across your CRBs to see which are active or expired, as well as the date they were last checked.
---
License Verification support if you need it
To help support you, we've created some articles that walk you through the seamless license verification process:
If you have any questions, feedback, or are experiencing any unexpected behavior, please do not hesitate to reach out to our friendly support team.