Updates, insights, and how-tos to help you get the most out of the Green Check platform.
What's new
Summer is here and so are a TON of new features. Take a peek at what's new:
Account Monitoring 2.0 is all the rage this month—we've been making incremental improvements to this product recently, including:

The *new* Data tab: Go to this new area to see a summary of core and sales data, SFTP core ingestions, and unmatched transactions. The Data tab helps you understand the flow of data between your core system and Green Check and alerts you if anything needs to be addressed.
Updates to monitoring reviews: We've added a comment summary (see more below), the ability to drill down into individual transactions, and updated the user experience overall when performing a monitoring review. These enhancements help you better understand each of your accounts by offering the information needed to identify risks or trends.
Core Data Admin role: There's now an available role to see and receive core data information and alerts.




Your user experience is always top-of-mind, so we've been focusing on enhancing the user interface across the application to make it even better. Have you noticed subtle differences in various areas of the Green Check app? Our UX elves are hard at work behind the scenes!
We're in the process of adding "smart rules" to questionnaires and custom fields in Due Diligence templates. These smart rules allow you to add conditional logic (show and hide) to fields and sections of your custom form fields so CRBs don't have to see or answer questions that don't pertain to them. Watch out for more on this release and happy building in the meantime (check out a preview below)!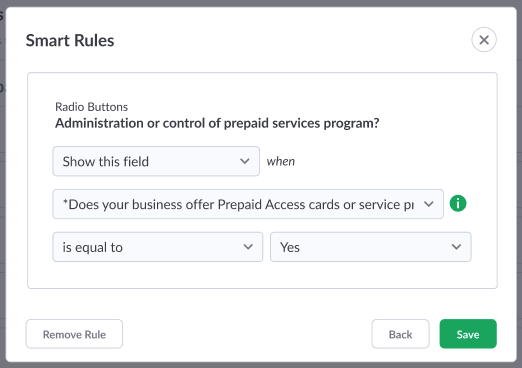 ---
How to:💡 View ALL comments left on an account over a time period in a monitoring review
Now, you can see even more activity for your CRB accounts! When running a monitoring review, you will see a new widget showing all comments that were left on the account across the app for the time period.
Follow these steps to see this new widget and gain access to comment history:
Go to the Monitoring tab.
Create a new review using Create New Review button.
Select the account(s) and the time period for the review.
Enter the account review.
In the Account Overview section, you will now see a new widget called Comment Summary. In it, you'll see the total count of comments left on this account for the time period selected.
Simply click Download CSV File to view all comment data. You'll get a notification at the top of your screen with a link to the file. This information will help you better understand your account's behavior and activity!

The new Comments Summary widget in Monitoring Reviews sums up all the comments left across the app for the account you are performing a review on.
---
More buzz 🐝 from Green Check
Add Branches (and RSSD Numbers)
An RSSD number is a unique identifier assigned to each institution by the Federal Reserve. To make filing FinCEN reports easier, we've added the ability to configure your RSSD number(s), as well as multiple branch locations in your Company Profile. Add an RSSD number to your main location and easily add branch locations with their own individual RSSD numbers, as shown below.

Coming soon! Better POS integration handling for your CRBs
We are enabling users to more easily connect to their POS and resolve any connection issues within the Green Check app. This will allow CRBs to confirm that their Green Check organization is successfully connected to their POS and reconnect that integration if their login credentials have changed. Stay tuned for more on these exciting updates to the CRB experience.