Learn about Green Check's major release (Green Check Verified Version 2.0)
The last year was filled with new products and features in the Green Check application. But, that's not all there is to celebrate! The team has been working behind the scenes on a new and improved Green Check application: Green Check Version 2.0 is now live for all users!
Here is a summary of all that was included:
---
New Features and Functionality
In-App Comments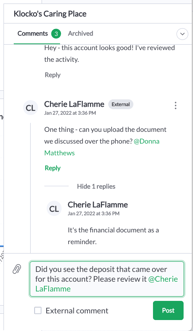 In-App Comments allows you to make and respond to comments across the Green Check application. Previously, comments were limited to a single comment on a document, as an example.
But now, you are able to make comments on various areas of the application, reply to existing comments, talk back and forth with your CRB relationship, add documents, mention users by name (and receive alerts), archive comments, and more.
Adding this functionality means you can keep all related conversations and information in one place, making your communications more streamlined.
Parent/Child Relationships
The Parent/Child Relationship feature helps you to manage your accounts more effectively by allowing you to see common ownership and shared attributes like documents or account numbers. Since Green Check requires an individual account record per location, this configuration is particularly helpful when you have a single bank account that is used by an entity with multiple locations or licenses.
Customized Alerts & Notifications
Each user will be able to toggle on or off notifications (both for emails and in-app notifications). If an email alert is too noisy within your email, simply turn the email or in-app notification off. Do this by going to your user profile in the top menu bar (⚙️ icon).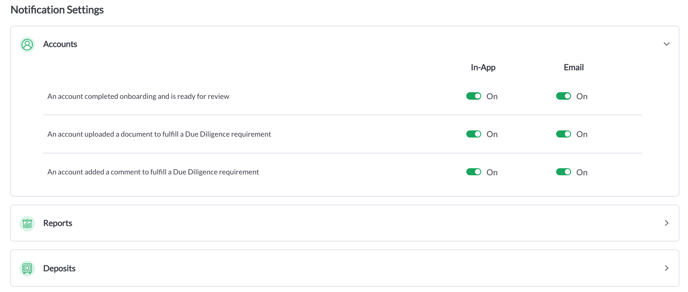 In-App Guides & Messaging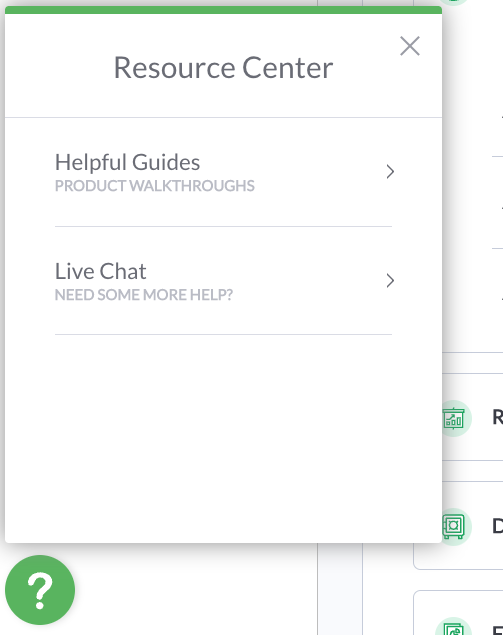 You will notice new in-app walkthroughs, tutorials, and messages, all aimed at making you aware of new features and functionality or areas of the application that may benefit from guidance. This will all be accessible through the "help" icon that is moving to the bottom left-hand corner of the application, which also contains live chat. Please look there for helpful guides, product updates, and more. On a related note, look out for an NPS survey at the beginning of 2022, which will help us gauge your satisfaction with the product!
General Improvements
Improved User Experience
We thoughtfully redesigned each screen of the application with your user experience in mind. You will notice some visual improvements, but many of the enhancements will help you get work done faster and with greater ease.
Please let us know what you think of the new application (the good and the bad—we want to hear it all!) by emailing feedback@greencheckverified.com! We look forward to delivering useful and impactful product updates to you in 2022!