Updates, insights, and how-tos to help you get the most out of the Green Check platform
What's new
Take a peek at what the product team has been working on:
---
How to:💡 Use core data for better monitoring and oversight
Sales data alone isn't enough to tell the full picture of your account's activities. You need complete visibility into all of the transactions and payments from the core. Setting up core ingestions allows you to combine core transaction data with a CRB's sales activities, allowing you to summarize data for each of your accounts so you can see its historic performance compared to its peers.

In order to collect this data, you'll work with Green Check and your IT team to set up an automated file from your core to be transmitted to Green Check securely via SFTP. In order for this functionality to be fully effective, core transaction data is needed on a recurring basis, the frequency of which will depend on your desired account review schedule. Here are the steps needed to set up your SFTP core ingestion:
Share this documentation with whomever is responsible for creating reports/extracts from your core
Use this template to classify the transaction codes in your core
Provide your internal dispensary IDs
Request SFTP credentials from your Relationship Manager
Test and validate your core data ingestion!
Learn more about how to get started by browsing our Support Center.
---
More buzz 🐝 from Green Check
What's Next!
Learn about the Indirect product that'll be available soon
Green Check's Indirect product allows you to create and manage multiple initial and ongoing Due Diligence templates for your CRB accounts. This means full customization of the documents and information you collect during onboarding (DD Templates) and on a recurring or ad-hoc basis (Questionnaires).

Not only will this addition allow you to expand your cannabis program to include Indirect CRB businesses, it also allows you to customize the information you ask for at different stages of existing CRB relationships. Stay tuned for launch dates!
Read about the Indirect solution
---
User Experience Survey: Help us choose a new design (Survey has ended)

Help us refine the Account Approval (Document Review) process
We heard your feedback about the Account Approval screens and how the hierarchy/order of operations might be confusing when reviewing CRB accounts that have long lists of documents to approve.

Take this 1-2 minute survey to help us choose a new design for this screen, which we hope leads to a more efficient account approval process.
Survey has ended!
---
New Feature Coming: License Verification

Licensed to Thrill!
The process of manually checking the validity and status of a given Marijuana Business License can be tedious and error prone, but this process will soon be a thing of the past. No longer will you need to take hours out of your day to check multiple state marijuana websites to verify if a CRB license is still active. Save the heavy lifting for us!

We are finalizing our business license verification integration, which will automatically check on the status of each marijuana business license in your system. As a result, your organization will be kept up-to-date on any status changes to your licenses, allowing you to get back to the things that matter most to you and your financial institution.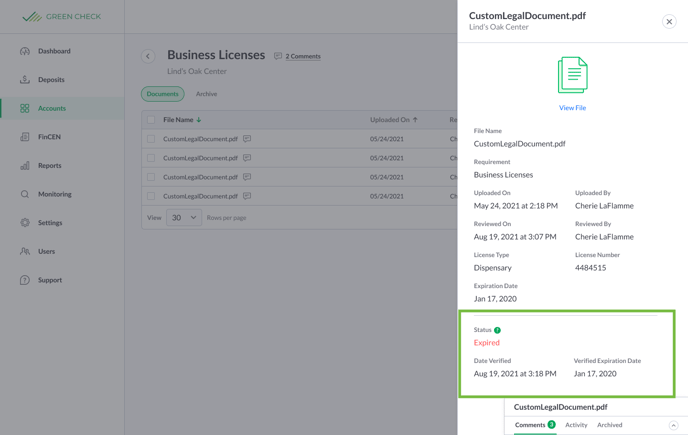 Gain valuable information about expired licenses in real-time!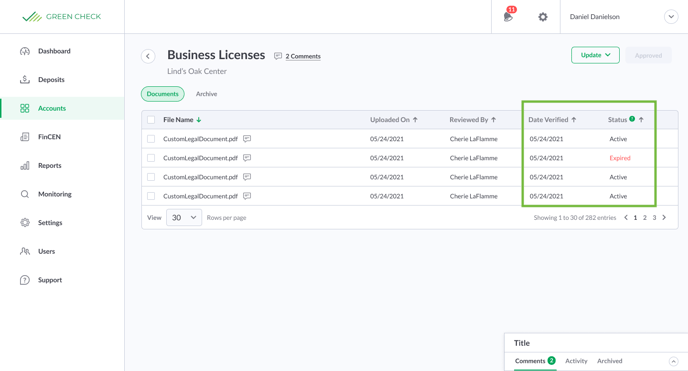 View the statuses of the business licenses for a CRB at a glance