The Green Check Product team has been busy this quarter and we're excited to share what we've been working on!
In this email:
An introduction to Account Monitoring
Descriptions of the new components making up this feature
Next steps for your institution!
Introducing Account Monitoring - a set of tools designed to reduce the time and effort needed to complete periodic reviews while increasing visibility into each cannabis relationship. The Account Monitoring feature combines core transaction reports with sales activities, summarizing this data so you can easily review an account's activity against its own historic performance and peer group activity levels.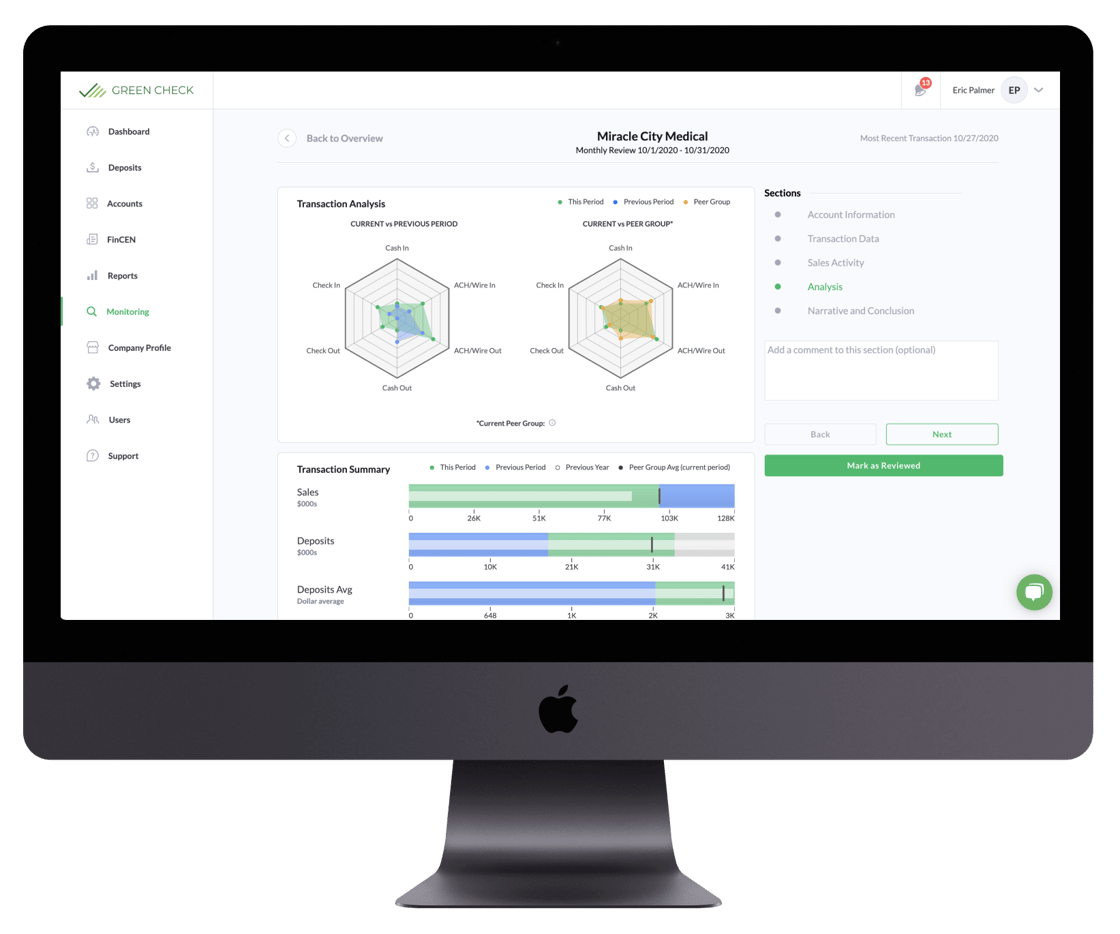 The bedrock of this feature is the "Review," a new standardized record that can be manually or automatically generated for each account on a recurring frequency of your choice. The review serves as a container to present core and sales transaction activities for the period and capture the results of your review, creating an audit trail of your analysis of each account. The Review record was designed to help you visualize account activity so you can more easily identify patterns, anomalies, or exceptions and help you document any responses or corrective actions that may be required.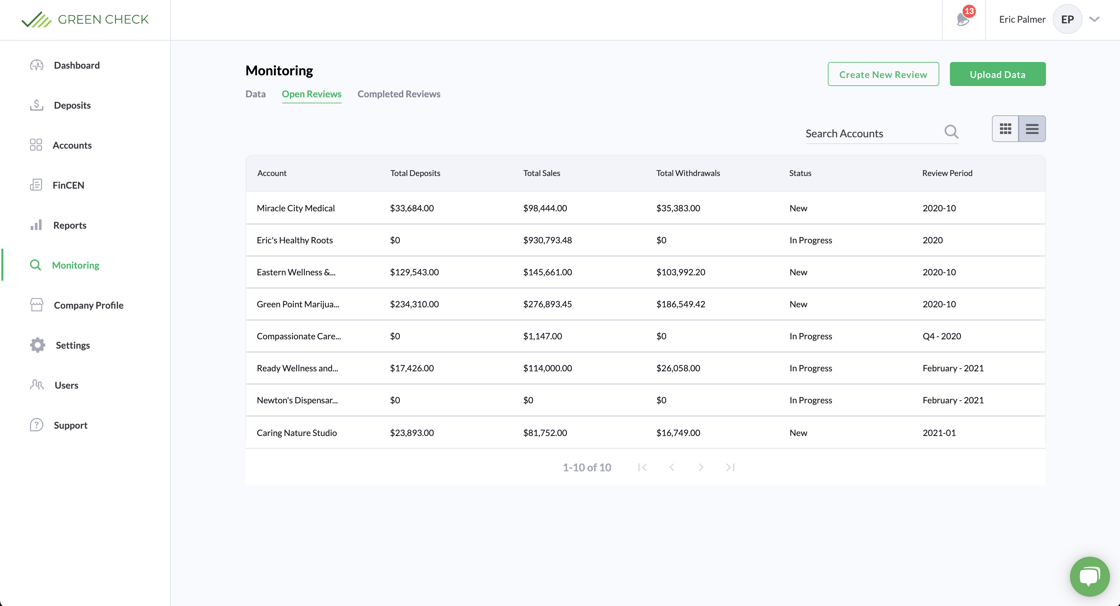 There's a lot to unpack here, so let's start with what's new:
Accounts
There are four new fields on the Account record to support your Account Monitoring efforts.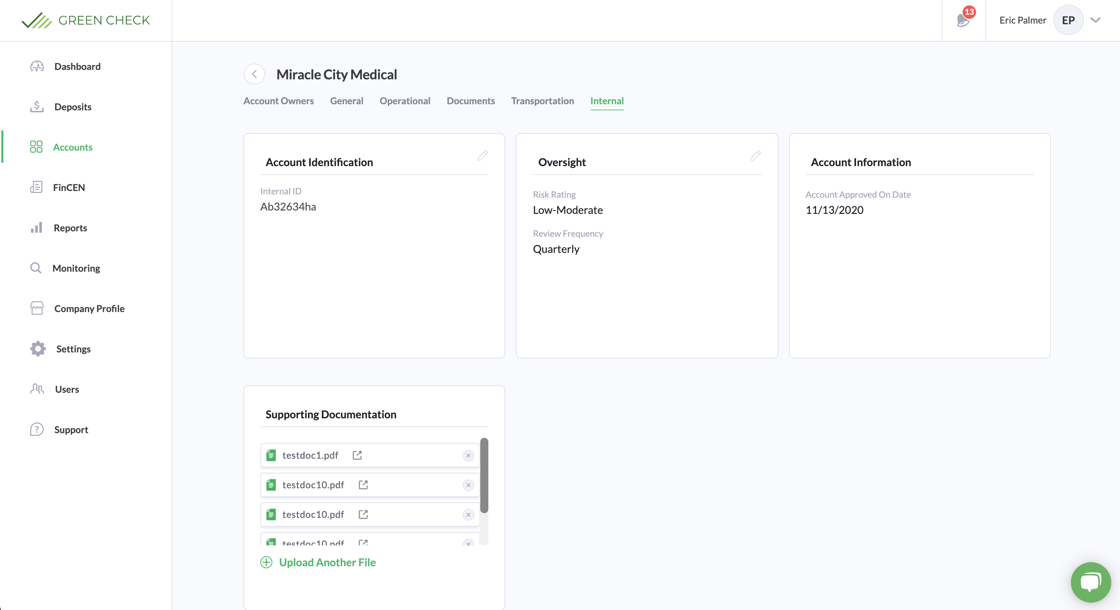 Customer Risk Rating: the relative cannabis-customer risk the account poses to the institution.
Review Frequency: the recurring frequency in which you'd like Reviews to be automatically generated for the account (note: you can always manually generate reviews on an ad-hoc basis, regardless of what the review frequency is set to)
Internal ID: the unique ID you'll use to link core transaction data to the account record in Green Check. This can be the account number, CIF number, EIN, or any other unique ID that will be included in the core reports added to Green Check (see below)
Internal Documentation: a place to store internal documents relevant to the account relationship. These documents are not visible to the cannabis business, so you can use it to store internal memos, documents from external systems, internal meeting notes, or anything else you'd like to associate with the Account record.
You can find these fields on the new "Internal" tab of each active Account. You'll also have the option to set the initial risk rating, review frequency, and internal ID during the account approval process.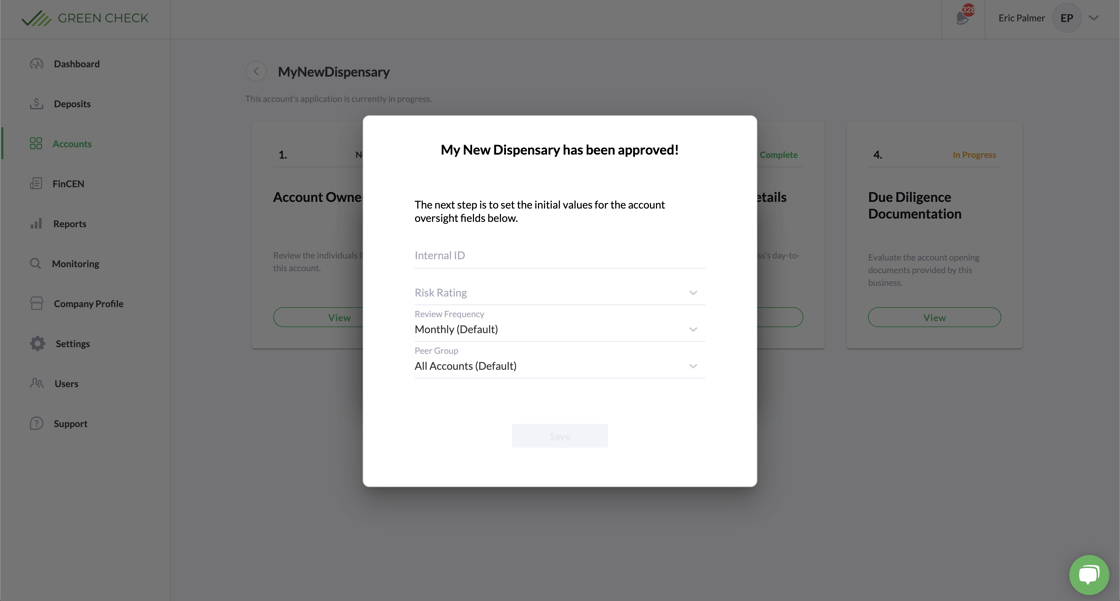 Settings
We've added another new page to the main menu bar called Settings. This will become the home for more program configuration settings in the future, but for now we're starting with two sections.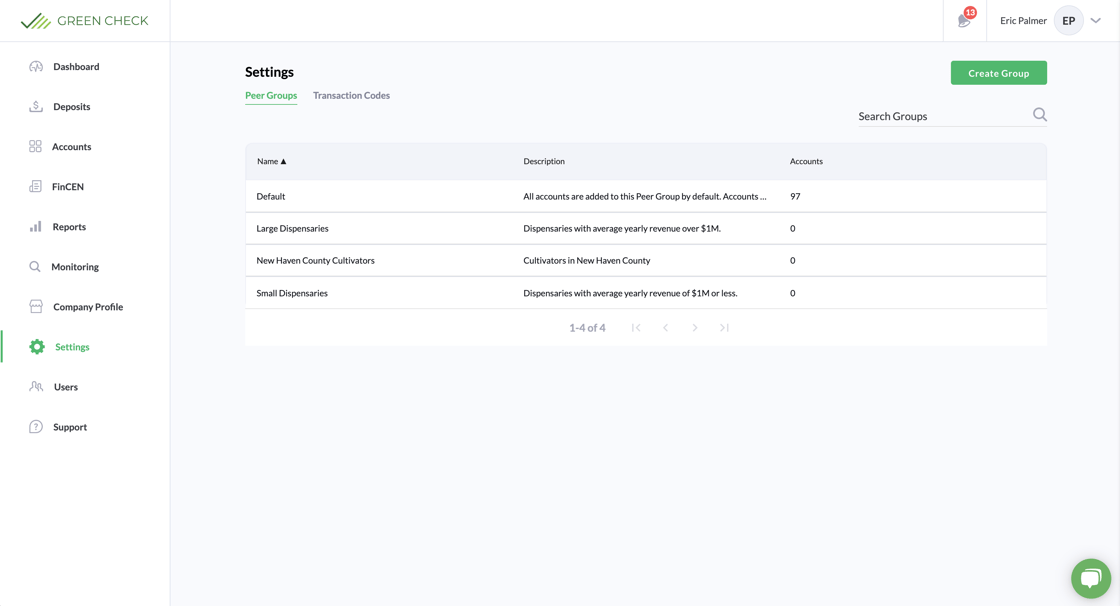 Peer Groups: Peer Groups allow you to classify your accounts in whatever way makes the most sense for your program. Peer Groups can be used to organize accounts by license type, relative size, location, or any other parameter that you'd like to use.
Transaction Codes: Our team will be reaching out to your Green Check admin to request a list of core transaction codes so we can update this section for you. This will help us classify core transactions when summarizing account activity.
Monitoring
The Monitoring page is where you'll manage your open and completed Reviews as well as core transaction data for each account.
Core Data: The Monitoring page allows you to import core transaction reports into Green Check so you can automatically match this data to the sales activities that support it as well as analyze each account's activity against historic and peer group performance. We'll be reaching out to your Green Check administrator to help you configure the data upload and/or transfer process, but you can get a head start by checking out the core data specifications here.


Reviews: Reviews are automatically generated at the beginning of each month/quarter/year based on each account's review frequency. The Review record will summarize and present both core transactions as well as sales activities giving you a complete view of each relationship. Users can add comments or notes as they analyze the information in each section. At the end of a Review, you'll be asked to confirm or adjust the customer risk rating for the associated account, as well as draft a narrative to conclude your review.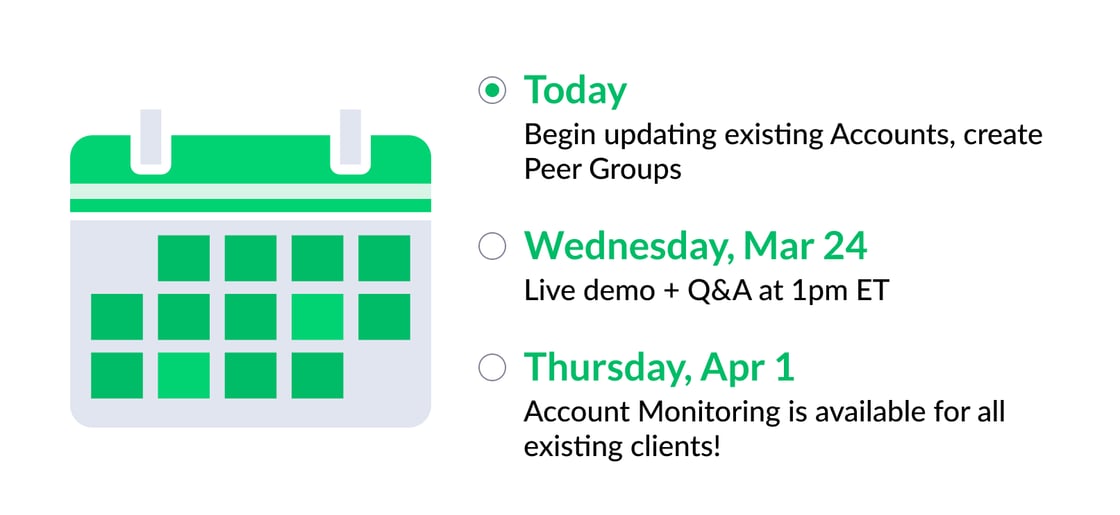 What comes next?
A few house-keeping items in order to prepare for the Account Monitoring launch.
Begin updating your account records to include internal ID, review frequency, and risk rating (here's how)
(Optional) Create and populate any custom Peer Groups you'd like to use to compare activity between accounts (here's how)
Use this link to schedule some one-on-one time to discuss the process for reporting core transactions
We're hosting a webinar on Wednesday, March 24 at 1pm ET in which we'll walk through a live demo of this new feature, as well as take live questions from the audience. You can sign up for the webinar here.
As always, we are abundantly grateful for the support and guidance each of you have offered in helping to shape Green Check. We wouldn't be where we are today without the help of our clients. Your shared dedication to building and managing the most successful cannabis banking programs is the driving force behind all that we do. Thank you!