Flowhub provides its users with a unique API key that can be used to integrate with other systems like Green Check.
Ask Flowhub to share your API key
First, you'll need to ask Flowhub to email you your API credentials.
Hello,

I need some assistance. I would like to integrate our system with the Green Check system. Please provide my API credentials so that I can provide them to the Green Check team to set up the integration.
Enable the integration in Green Check
Once you receive your API credentials from Flowhub, you'll need to configure the integration in Green Check.
In your Green Check account, navigate to Company Profile > Integrations.
Click the Flowhub

card.

Enter your API key and Client ID.
Check the box next to Enable Flowhub integration

.

Click Connect

.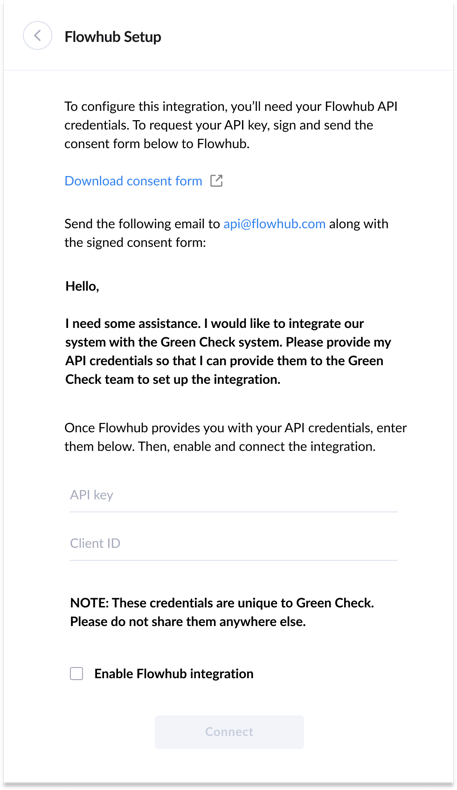 After you connect
After you connect the Flowhub integration to Green Check, you'll see that your integration status is Pending.
You'll know that the integration was completed successfully once this status changes to Connected. Once the integration is Connected, you will begin to see your Flowhub sales activity loading into Green Check.
Important Notice
Please note: Flowhub does not provide Green Check with Product Weight or MMJ License ID Expiration, which will result in most, if not all, of sales uploaded from Flowhub to be flagged as Unchecked by the Compliance Rules Engine.
Want to see this change? Email your account representative at Flowhub asking them to add these fields to their API and copy support@greencheckverified.com.
"Hello,
I use Green Check to manage my banking relationship and am required by my bank to upload my sales from Flowhub. Can you please add the following fields to your API so that my sales stop being flagged as "missing data" in Green Check?
Product Weight
MMJ License ID Expiration"