Blaze provides its users with a unique Developer Key that can be used to integrate with other systems like Green Check.

Generate a Developer Key
In order to connect with third party applications, you will need to generate a developer key from the backend of BLAZE Retail.
Start by setting up your third party integrations by navigating to the "Global Settings" on the left sidebar in BLAZE Retail.
Then to the seventh tab in "Company Settings" called "Developer Keys."
Generate a developer key and secret by hitting the "ADD KEY" button in the top right of "Developer Keys."
Make a note of the the Key.
Adjust your toggles as follows:

Status = Toggled Off
Expense Sales = Toggled Off
Expense Members = Toggled Off


Add your Key and Secret to Green Check
Next, you'll use the Key and Secret to configure the integration in Green Check.
In your Green Check account, navigate to Company Profile > Integrations.

Click the Blaze card.

In the drawer, enter the Key that you generated from Blaze.

In Blaze check the box next to Enable Blaze integration.

Click Connect.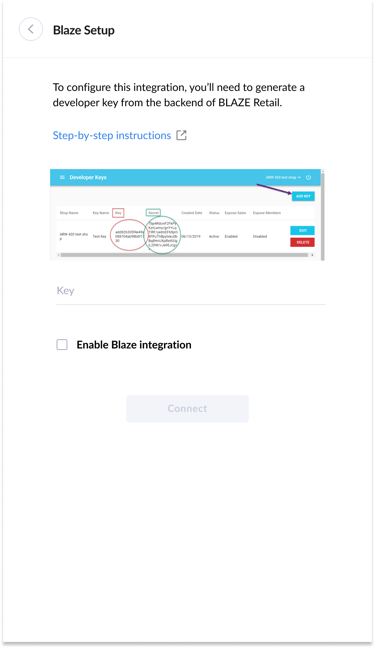 After you connect
After you connect the Blaze integration to Green Check, you'll see that your integration status is Pending.
You'll know that the integration was completed successfully once this status changes to Connected. Once the integration is Connected, you will begin to see your Blaze sales activity loading into Green Check.