Easily archive or deny accounts at any stage of the relationship
You can easily archive accounts that you no longer serve or deny accounts that are not a good fit for your program. Accounts can be archived at any stage of the relationship (Invited, Awaiting Review, Review in Progress, or Active). This self-service functionality is key in helping you effectively manage all account-related workflows in one place. We store all account data from the time at which it was connected to your business, so you will be able to access related data if needed.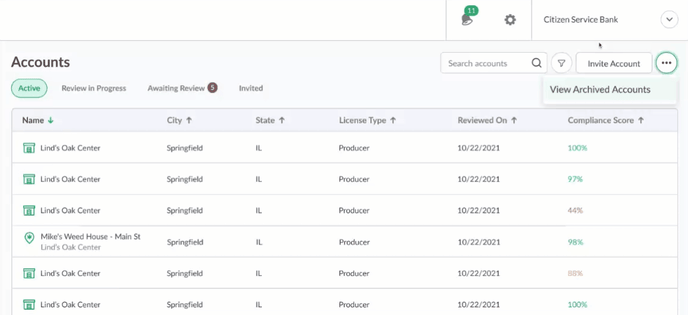 How to archive an account
Go to Accounts, and click on the account you wish to archive.

If the account is in Invited, Awaiting Review, or Review in Progress, you will first click into the account to access the approval workflow. Then click View Account.

In the header actions, click the Archive Account option.
Fill out the details in the archive modal.

Auto-Generated Reports: This option allows you to choose whether to run the next FinCEN SARs or Monitoring Reviews that have been already scheduled.
Manual Reports: If you want to run other non-automatically generated reports (FinCEN and Monitoring, specifically), you will have to do this before archiving. If this is the case, close the modal and create those reports. You will still be able to include archived accounts in any report within the Reports page.
Termination Reasons, Date, and Explanation: Select the archive date, termination reason, and provide an explanation. This will be accessible in the 'archived accounts' area later.
Important Note: Once a cannabis account is archived, they will receive an email letting them know that their company has been disconnected from your organization.
Please reach out to them if additional details need to be shared about the termination or denial.
How to view archived accounts
Go to Accounts, and click on the actions button in the upper right-hand corner.

Here, you'll be able to switch to the 'archived accounts' view, which has all of the data from the time at which this account was connected to your organization.
You'll be able to see the archived reason and explanation in the Activity tab.
Running reports on archived accounts
Go to Reports, and select the report you would like to run.
Use the 'show archived' link within the modal to include archived accounts within the report. Remember, you will not see core or sales data for dates after the account was disconnected.
Once you run the report, you'll see a new column in the report for 'archived account'. Use that column to sort by the archived status.